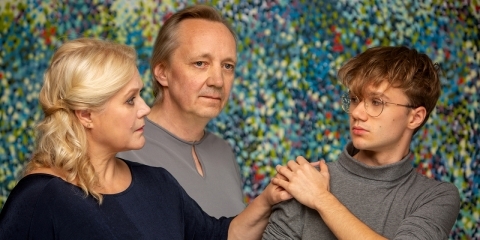 This musical is based on the famous Oscar Wilde fairy tale. "The Star-Child " is a beautiful and emotional story about a person's growth. Musical's protagonist seeks an answer to the question "who am I?". He overcomes evil and pride inside him, learns humility and compassion, and appreciates the support of friends and family.
Main role will be played by a student of the Music Department of the Riga Dome Choir School Markuss Rūtentāls. Singers Zigfrīds Muktupāvels, Kristīne Zadovska, Uģis Roze, Katrīna Dimanta, Annija Putniņa, Edvards Grieze, Toms Kalderauskis, Emīls Gilučs, Daniels Pelnēns, as well as other students and graduates of Riga Dome Choir School will take part in the musical. The creative team of the new musical consists of director Mārtiņš Kagainis, choreographer Egija Abaroviča, vocal teacher Annija Putniņa.
Premiere of the new musical "The Star-Child" will take place on January 19 in Riga, VEF Culture Palace, after which the performances will travel around Latvia – Liepāja Concert Hall "Lielais dzintars", Jelgava Culture House, Vidzeme Concert Hall "Cēsis ", Latgale Embassy" Gors ", Valmiera Culture Center, Ventspils, Theater House" Jūras vārti "and Ogre Culture Center. 
In this event we welcome children and those customers who have recovered from the Covid-19 or are vaccinated against it!
Customers who can enter the concert hall and attend events:   
Children under 12 years of age can enter without a valid digital Covid-19 certificate;
Children between the ages of 12 and 18 with certificates of vaccination against, or recovery from Covid-19, negative laboratory test for Covid-19 or certificates of a negative screening test performed within the last 72 hours as part of the educational process;
Adults with certificates of vaccination against or recovery from Covid-19.

A ticket must be purchased for each visitor, regardless of age.
Please make sure that your Covid-19 certificate is valid before coming to the event, otherwise attending will be denied. The digital Covid-19 certificate can be obtained at https://covid19sertifikats.lv/. QR code must be digital or printed.
Use of mouth and nose covers is mandatory inside the concert hall. Сhildren under 7 years of age are not required to wear masks.
Unfortunately, the children's playroom will not be available while restrictions are in force.
We draw the attention of visitors to the fact that all security measures set by the state will be observed. We recommend you to evaluate your health condition and do not attend the event if you have symptoms of a respiratory infectious disease (fever, cough, shortness of breath), as well as if you are required to observe self-isolation, home quarantine or strict isolation conditions.
By purchasing a ticket to this event, you certify that:
- you will comply with all security measures in the place of the event to limit the spread of Covid-19; information about them will also be available at the venue;
- you will respect the instructions of the concert organizers at the venue regarding the organization of the flow of visitors, the observance of hygiene requirements, the availability of disinfectants, etc.
We inform that photography, video and/or audio recordings may be taken during the event for illustrative-artistic purposes and in order to inform the public about the event. These activities are performed in compliance with the data processing requirements, without identifying the specific persons. The obtained materials can be published and/or broadcast in the media, as well as on social networks on the internet etc.
If you do not wish to be photographed or filmed, you have the right to require not to take these actions against you. You have the right to request not to use or delete your personal data - a photo, video or an audio recording in which you are recorded by contacting the personal data processing manager - in person at the administration of SIA "Austrumlatvijas koncertzāle", Rēzekne, Pils Street 4 or by calling 646 33303, or writing to koncertzale [at] rezekne.lv.
| | |
| --- | --- |
| 05. Feb 2022 | 19:00, Saturday |
10,00 €

12,00 €

18,00 €

20,00 €
Event date and time
| | |
| --- | --- |
| Duration | 2 h |
| Location | Lielā zāle |
| Event organizer | Izklaides producentu grupa 7, SIA |
Pasākuma veids: pārslimojušiem, vakcinētiem vai līdz 18 gadu vecumam testētiem, ar maskām.
Biļete jāpērk katram apmeklētājam, neatkarīgi no vecuma.