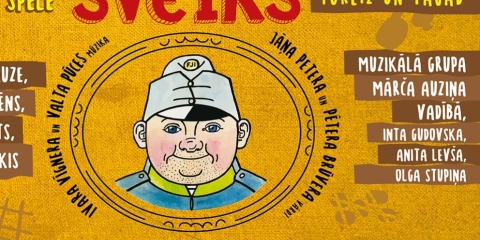 If you ask a Latvian "Who is Schweik?", someone will answer – " Schweik is the good soldier!" Another will sing "Poke me flowers...", someone else will remember a song about sexual cones. But would someone remember a book about mischief of a strange man named Schweik?
Schweik is popular in Latvia both because of the book and theatre productions.  Schweik's songs live long after the show is over - "Mīļā, ķeizars mani karā sauc", "Ardievu, meitenes", "Karalauka pasts" and more.
Jaroslav Hašek is Schweik's author. He is 140 years old, but the statement of his hero Schweik "When the fatherland is in danger, every cripple must be is its place!" is still relevant. As long as the state exists, there will also be civil servants, bureaucracy and all the nonsense that only a great soldier, Schweik, can fight best!
This autumn, many  places in Latvia, will see the return of Schweik again with the song game "Schweik - then and now". With songs composed by Ivars Vīgners and Valts Pūce. With song lyrics by Jānis Peters and Pēteris Brūvers. With a humorous narrator by Valters Krauze and with actor Edgars Pujāts, singer Mārtiņš Ruskis, a group of musicians led by Mārcis Auziņš, with singers - Inta Gudovska, Anita Levša and Olga Stupiņa.
In this event we welcome children and those customers who have recovered from Covid-19 or are vaccinated against it!
Customer can enter the concert with a valid digital Covid-19 certificate and identity document proving that the person (including children) is:
-BioNTech", "Moderna" and "Janssen" vaccine) or twenty-two to ninety days after the first dose of "Vaxzevria" (AstraZeneca) and immediately after the second dose of "Vaxzevria");
Has been recovered after the Covid-19 for the past six months.
Please make sure that your Covid-19 certificate is valid before coming to the event, otherwise attending will be denied. The digital Covid-19 certificate can be obtained at https://covid19sertifikats.lv/. QR code must be digital or printed.
Entrance to the concert hall only with mouth and nose cover.
Unfortunately, the children's playroom will not be available while restrictions are in force.
We draw the attention of visitors to the fact that all security measures set by the state will be observed. We recommend you to evaluate your health condition and do not attend the event if you have symptoms of a respiratory infectious disease (fever, cough, shortness of breath), as well as if you are required to observe self-isolation, home quarantine or strict isolation conditions.
By purchasing a ticket to this event, you certify that:
- you will comply with all security measures in the place of the event to limit the spread of Covid-19; information about them will also be available at the venue;
- you will respect the instructions of the concert organizers at the venue regarding the organization of the flow of visitors, the observance of hygiene requirements, the availability of disinfectants, etc.
We inform that photography, video and/or audio recordings may be taken during the event for illustrative-artistic purposes and in order to inform the public about the event. These activities are performed in compliance with the data processing requirements, without identifying the specific persons. The obtained materials can be published and/or broadcast in the media, as well as on social networks on the internet etc.
If you do not wish to be photographed or filmed, you have the right to require not to take these actions against you. You have the right to request not to use or delete your personal data - a photo, video or an audio recording in which you are recorded by contacting the personal data processing manager - in person at the administration of SIA "Austrumlatvijas koncertzāle", Rēzekne, Pils Street 4 or by calling 646 33303, or writing to koncertzale [at] rezekne.lv.
| | |
| --- | --- |
| 15. Oct 2022 | 19:00, Saturday |
12,00 €

15,00 €

18,00 €

20,00 €

25,00 €
Event date and time
| | |
| --- | --- |
| Duration | 1 h 30 min |
| Location | Lielā zāle |
| Event organizer | Forte Production, SIA |