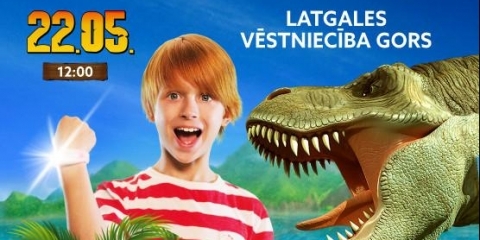 The multimedia show "Multizaurs" will take place on May 22 at 12.00 in the Embassy of Latgale GORS. It is an exciting journey through the world of dinosaurs. Every viewer will learn all the necessary information about prehistoric dinosaurs and complete a very difficult mission.
Do you want to know how these animals lived and what language they spoke? Every viewer will learn everything in details from the world of dinosaurs and together perform a very difficult mission - save the mysterious dinosaur island from the volcano. There will be no need to be afraid, because each viewer will have unique multifunctional bracelet with the help of which it will be possible to control several actions on the screen, such as natural elements and move through time. Our heroic characters, played by professional actors, will accompany the entire mission with the audience.
At the event: Muldimedia interactive show on a huge screen, each child will be given an interactive device (bracelet) to perform a complex mission together with the actors and other tasks how to train dinosaurs, live installations.
We inform that photography, video and/or audio recordings may be taken during the event for illustrative-artistic purposes and in order to inform the public about the event. These activities are performed in compliance with the data processing requirements, without identifying the specific persons. The obtained materials can be published and/or broadcast in the media, as well as on social networks on the internet etc.
If you do not wish to be photographed or filmed, you have the right to require not to take these actions against you. You have the right to request not to use or delete your personal data - a photo, video or an audio recording in which you are recorded by contacting the personal data processing manager - in person at the administration of SIA "Austrumlatvijas koncertzāle", Rēzekne, Pils Street 4 or by calling 646 33303, or writing to koncertzale [at] rezekne.lv.
| | |
| --- | --- |
| 22. May 2022 | 12:00, Sunday |
7,00 €

10,00 €

12,00 €

15,00 €

18,00 €

20,00 €
Event date and time
| | |
| --- | --- |
| Duration | 1 h |
| Location | Lielā zāle |
| Event organizer | UNDER MGMT, SIA |